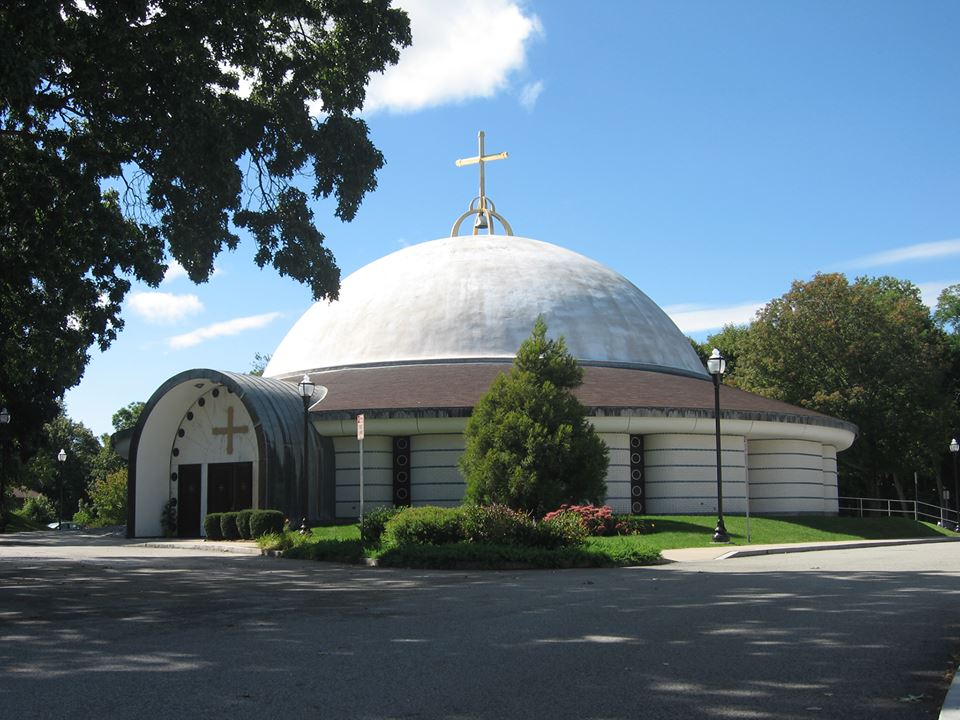 "Welcome one another, therefore, just as Christ has welcomed you, for the glory of God.
_______________________________________________________________________________
Services Schedule
Sunday Service (year round)
Orthros 8:15am (morning prayer), Liturgy 9:30am
Please refer to the Parish Calendar for information about weekday, holiday and special services.
For information on our Lenten and Holy Week services please contact the Church office at (401) 942-4188 between the hours of 9:00 AM - 5:00 PM, Monday through Friday.
____________________________________

Father Patrick and Presvetera Susan Viscuso will be returning to our parish for a visit from June 27 to June 30.
On Thursday night, June 27 at 7:30 PM, Father Patrick will speak on the topic of "Faith Does Not Change, but Its Expressions Do".

On Sunday, June 30, Father Patrick will join us and preach during Divine Liturgy.

Susan and Patrick Viscuso were graduate students during their time in Rhode Island from 1985 until 1988.

They were just married in August 1985 and were studying for doctorates. Susan would graduate with a PhD in Psychology (1988) and Patrick, with a PhD in Historical Theology (1989). During their time in Rhode Island, they lived in a third-floor student apartment on Lloyd Avenue off Thayer Street, near Brown University where Susan was enrolled. Patrick had graduated from Holy Cross School of Theology, the Greek Orthodox seminary (1981), and was completing his doctoral thesis, long-distance, at The Catholic University of America (Washington, D.C.). Susan and Patrick had met at The Catholic University, where Susan had graduated college (1984).
During their time in Rhode Island, both were parishioners at Annunciation Church and have many memories of the wonderful people they met. During Greek festivals, Susan learned life-long skills by selling raffle tickets with Stella Pappas, often to people who had no intention or inclination of buying them! Patrick gave church tours and met a tremendous number of people from throughout Rhode Island, including the politicians of the day! On the weekends, Susan and Patrick were regularly invited by Blanch Erinakes to her movie theatre in East Greenwich, where they helped her out at the concession stand selling popcorn to the patrons, and spent more time enjoying each other's company than actually going to films.

Working closely with Fr. Andrew, Patrick served as the chanter for the parish for several years. In addition to the Orthros on Sundays, feast day services, and all Holy Week, he served the people of the community at every baptism, wedding, and funeral. Both Fr. Andrew and Fr. Stephen Papadoulias, a retired priest then at the parish who had a wonderful singing voice, shared valuable life and church lessons with Susan and Patrick that would help them both, especially after Patrick was ordained a Greek Orthodox priest in 1991.
Susan and Fr. Patrick are grateful to Fr. Andrew and to the entire community of the Annunciation, and will always treasure the many wonderful warm memories of Rhode Island from the early part of their marriage. They look forward to returning and visiting at the end of the month, June 27 to 30.

Parish News
Capital Improvement Phase II Informational Meeting, January 14
(Click this Link to View the January 14 Presentation File)
Mid-May to Mid-June 2019 Annunciator
February-March 2019 Annunciator
Mid-December 2018 to Mid-January 2019 Annunciator
Mid-November to Mid-Dcember 2018 Annunciator
October & Mid-November Annunciator
September-October 2018 Annunciator
Please Click Link Above
Thursday, December 14, 2017
In the Fullness of Time  "When the appointed time had arrived, then God sent his son, born of a woman, born under the law, to redeem those, who lived under the law, and enabled us to receive adoption as his sons." (Gal 4:4-5). "In the same region there were some shepherds staying out in the … Read More ...
Saturday, November 18, 2017
"Excuse our Appearance" – Phase 2 In Full Swing Soon Church Renovations / Phase 2  "One generation shall praise Thy work to another." (Psalm 145:4) We draw near to the 50th anniversary year of our church edifice which will be marked in 2018. The behind the scenes work of planning for the renovations and enhancements of ̷ Read More ...
Wednesday, November 1, 2017
ST. LUKE THE EVANGELIST (1st Century) We know from our studies of Holy Scripture that the Bible is divided into two sections, commonly referred to as the Old Testament and the New Testament. The Old Testa-ment consists of forty-nine books which relate the events from the beginning of the world to the last of the … Read More ...
---
Social Media
6th Tuesday after Pentecost